The calendar of appointments for the Christmas and New Year's festivities begins to take shape in Ostuni, now just around the corner.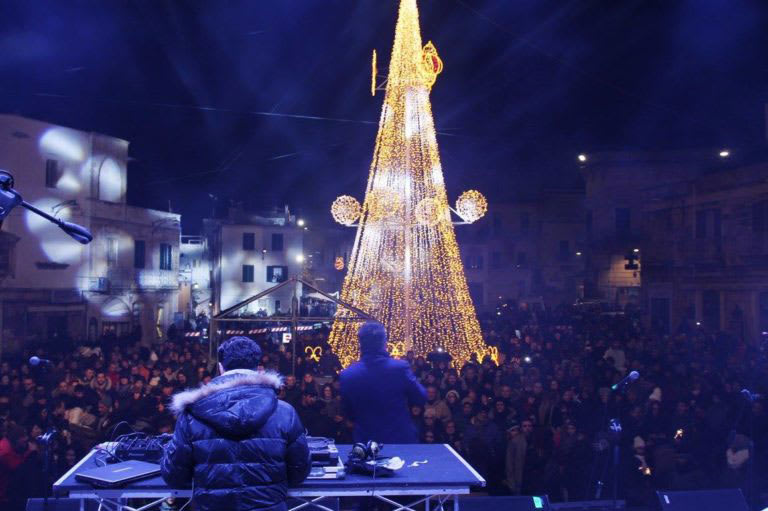 We will start from 7 to 9 December with the usual appointment with " Zucchero & Cannella ", the Christmas market of La Ghironda, which will be set up in Viale Pola and Piazza Italia. On December 9th, within the Museum of Preclassic Civilizations of the southern Murgia, will be staged a Benefit Concert that will see the Art String Quartet directed by Antonella Cavallo, in an event organized in collaboration with the Lions Club Ostuni Host.
December 13 will be the turn of "In … Christmas singing", in the parish of the Madonna del Pozzo, organized by the musical association "Antonio Legrottaglie".
From December 13 to 15 at the start of the event "Night of lights of Saint Lucia", while on December 26, 30 and January 6, the Living Biblical Nativity scene, set in the historic center of the White City, will be staged every year.
New Year's Program Ostuni 2019
On December 29th the South Sound System and Roy Gelato will be hosted for the end of 2018, with DJ sets composed by local disk jockeys and vocalists of national radio stations: the White City is preparing to live the New Year with a series of events that will begin with the concert in the square of the Salento group, a few days before the last of the year.
On December 30th there will be, at 9:30 pm, a Gospel Uni.Sound choir, and then project directly to the last night of 2018: in the heart of the historical center of the White City the rhythms of local artists will anticipate the artist's performance English, which shortly after the stroke of midnight will perform in a much anticipated concert.
On January 1st at 6:30 pm in the church of San Francesco there will be a concert realized by a Gregorian Choir. "Also this year we have created a program for the New Year that will last more days, 4, with shows that will find the enjoyment of a varied audience: the goal – explains the councilor for tourism Vittorio Carparelli – is to give the possibility to hoteliers and operators of the sector to make incoming for this particular period of celebration. We are working to make this city active for 12 months a year: the presences of September, October and November are already very good. The hope is that even December can confirm itself positively ".
Do you want to wait for the arrival of the new year in Ostuni?
The holiday apartment Ostuni Palazzo Rodio is located in the center of Ostuni. It has apartments for groups of people from 2 up to 16 people. The apartments are equipped with the most modern comforts, such as bathroom and kitchen.